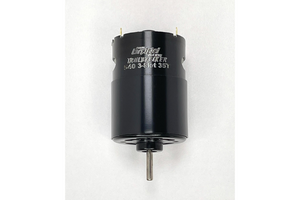 The Trailbreaker 540 35 Turn is a budget friendly motor built to provide excellent performance, especially in hard environments such as water or mud without breaking the bank. We used the best available parts to build these sealed can motors to perform under extreme conditions without failing like the typical budget motor. Optimal wire sizes to go with our most popular winds help create excellent power, wheelspeed and torque. Unlike similar motors on the market, the Pathfinder features dual ball bearings for the best efficiency and smooth operation, along with each and every motor is fully broken in and tested prior to shipping. Every motor is engraved with name, logo and turn for a durable identification system completely resistant to the environment. 
The Trailbreaker 540 35 Turn features a 3-Slot armature for the perfect combo of RPM, torque, and startup.
The 540 size can allows easy installation in a wide variety of trucks while still providing excellent torque, brake and horsepower.
Features
3-Slot Machine Wound Armature

540 Dual Magnet Can with YG45 magnets - Maximizes torque and braking

   

        

1.1mm thick Can - Strengthens the magnetic field for maximum torque and braking with a durable finish

Torque Ring - Increases Torque, Braking and Efficiency.

Zero Timing - Allows to be installed in either normal or reverse applications

Dual Ball Bearings - Reduces friction provides increased efficiency and power

Sealed Endbell - Helps keep out the elements

Long-Wear Brushes -  Long lasting performance brushes

1/8th Shaft Diameter - For Standard RC Pinions

Standard 540/550 M3 Mounting Holes on 25mm Spacing

Internal Cooling Fan - Lower operating temperatures 
Build Features
Laser Engraved - Provides an element proof marking for easy identification

Fully Broken-In - Ready to install and run

Tested - Motors are given basic tests after break in to insure correct performance

30 Day Limited Warranty
GENERAL MOTOR SPECIFICATIONS
Poles
2
Magnets
Dual YG45
Voltage Input
3.7v-14.8v
Break-In
600 seconds at 5 volts
ARMATURE SPECIFICATIONS
Construction
Machine
Stack Design
Straight
Slots
3
Wire Type
Copper Round
Balance Type
Drill
MOTOR DIMENSIONS
Weight
180 Grams +/- 5
Length
55.25mm
Diameter
35.05mm w/o Torque Ring 37.00mm w/ Torque Ring
Shaft Size
3.175mm (1/8th)
Mounting Pattern
Standard 540 M3x25mm