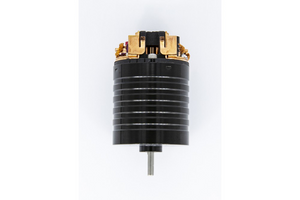 The Doomsday is built upon Team Brood's Dual Magnet 540 Teardown a power plant designed specifically to make insane torque and have superior braking and holding power. These Teardowns feature a CNC machined can that provides optimal performance over a stamped can due to the much more accurate tolerances. The Doomsday can utilizes a unique ribbed heatsink design that provides increased cooling while not diminishing the torque or braking performance. The Doomsday utilizes a 5-Slot Straight Armature for the smoothest startup possible for your truck.

Each motor is custom built from the ground up, beginning with Exclusive teardowns. The armatures are hand wound with precision by the best in the business using optimized wire gauges for ultimate horsepower. Each armature is epoxy dipped to ensure durability and epoxy balanced to a zero tolerance for the smoothest power delivery possible.

The assembly process is a rigorous one involving hand shimming, precise brush hood alignment, low impact break-in, and dyno testing. The result? Positively THE MOST POWER you can strap into your truck.

Features

Dual Magnet Can with TDK FB9 magnets - Maximizes torque and braking

   

        

1.4mm thick Black E-Coated Can - Strengthens the magnetic field for maximum torque and braking with a durable finish

Onboard Surface Mount Capacitors Reduces radio interference caused by electric motors

Adjustable Timing - Fine tune the motors powerband to optimal settings

Rebuildable - Can be rebuilt to provide maximum power and longevity

Dual Precision Ball Bearings - Reduces friction provides increased efficiency and power

Aluminum Heatsinks - Additional cooling provides for a more efficient motor

Standup Brushes - 

 

Long lasting performance brushes

Springs - Optimal tension springs

Hand-Wound Armature:

All Team brood armatures are processed from start to finish using the state of the art techniques, materials and equipment.

Armatures are pattern wound by the best winders in the world using the highest grade copper wire

       

 Armatures are welded using our high-tech silver brazing rod

Armatures are epoxy dipped with the aerospace grade epoxy resin

       

 Armatures are precision epoxy balanced

Armatures are tested with precision meters

Armatures are engraved with the wind on the armature shaft
Build Features

Diamond Trued Commutator - Provides a perfectly round cut

Zapped Magnets - Assures magnets are at full and even strength

Cleaned and Lubed Bearings - Allows for the smoothest operation

Precision-Spaced Armature - Centers the Armature in the magnetic field with minimal play

Precision-Measured Springs - Assures both springs are at the optimal tension

Aligned Brush Hoods - Allows the brushes to make full contact allowing even wear and max power

Tested - Each component is tested on calibrated

Dyno-Tuned - Guarantees the motor is producing its maximum power, rpm and torque

Fully Broken-In - Ready to install and run

30 Day Limited Warranty