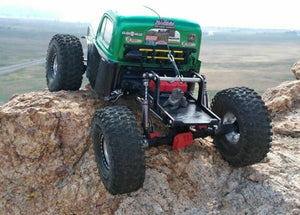 Product Details
3d Printed flat bed that bolts between frame rails. Provides flat surface for mounting scale accessories. Scale accessories not included.
Note: New version of bed mounts to the 2nd rear bumper hole, allowing for a 70mm cross brace to be installed in the last rear bumper hole.
Features:
Rear Bumper Notch: Allows for mounting of bumper inside the frame rails.

156mm for power wagon (distance from rear of cab to end of frame rail, 148mm bed length) perfect for the power wagon. 

Rear cutout : Hole in back of bed for rear upper link clearance.