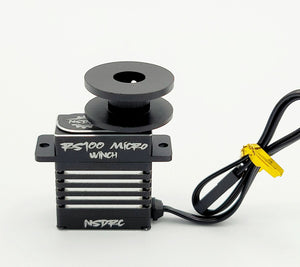 RS100 High Torque/Speed Micro Servo Winch
Comes with our custom Cnc aluminum micro spool
Winch controller built in, no controller needed! 
Splashproof/ Resistant, NOT Submersible
Full Cnc Aluminum Case
Hardened Steel Gears 
Quality Coreless Motor
Spline: 25T 4.9mm Micro 
Voltage: 5v-8.4v
Bearing: 2BB 
Wire Length: 185mm
Weight: .70 oz / 20 Grams Without Spool
Dimensions: 23 x 12 x 26mm 
Torque: 90 oz @ 5v
              100oz @ 6v
              120oz @ 7.4v
              140oz @ 8.4v
Speed:  .10 @ 5v
              .08 @ 6v
              .07 @ 7.4v 
              .06 @ 8.4v 
*200# Winch Line, Hook, and Adapter Plate available separately 
Warranty: 6 Month Warranty from all defects. We assume no liability of damage caused by mistreatment, abuse, water, or any use other than recommended. 8.4v Max.  Nothing is unbreakable! For all issues, you will need to send the servo to us to be inspected for warranty.