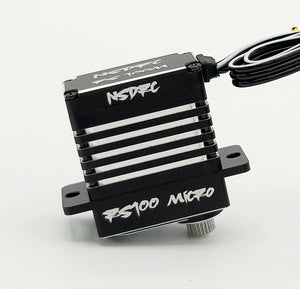 RS100M High Torque High Speed Micro Servo
Quality Coreless Motor
Full Cnc Aluminum Case
Hardened Steel Gears
Spline: 25T 4.9mm Micro
Voltage: 5v-8.4v 
Bearing: 2BB
Wire Length: 185mm
Weight: .70 oz / 20 Grams
Dimensions: 23 x 12 x 26mm
Splashproof/ Water Resistant, NOT Submersible!
Torque:  90oz @ 5v
              100oz @ 6v
              115oz @ 7.4v  
              130oz @ 8.4v
Speed:  .10 @ 5v
              .08 @ 6v
              .07 @ 7.4v
              .06 @ 8.4v
*These do not fit in the stock servo mounts, we recommend using the Mofo RC mounts or similar. 
*Our Micro Bec is recommend for the Micro servos being used in 1/24 and 1/18 Micro rc. Stock Micro rc electronics are typically pretty weak and need a boost when running high power, for this we recommend using our Micro Bec's.
Warranty: 6 month warranty from all defects. We assume no liability of damage caused from excessive bashing, abuse, mistreatment, water, or use other than recommended. 8.4v Max, Nothing is unbreakable. For all issues you will need to ship the servo back to us to be inspected for warranty.