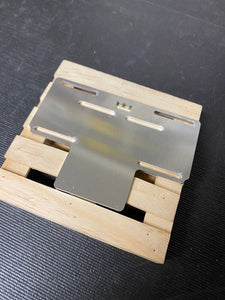 18 GUAGE ALUMINUM BATTERY PLATE.
THIS WILL FIT ON THE STOCK POSITION OF TRX4 SPORT WITH NO MODS. YOU CAN RUN SHORTY AND STANDARD PACKS. 
NOTE:
1. BATTERY STRAPS NOT INCLUDED.
2. IF YOU USE THIS PLATE ON ANY OTHER TRX4 YOU WILL NEED A M3X20mm SPACER TO CLEAR THE SHIFT SERVOS. BATTERY PLATE CLEARS SHIFT SERVO FOR 2 SPEED NO PROBLEM.