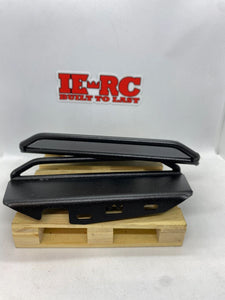 16G steel with 3/16" solid rod, black textured powder coated.  
1 Left Slider 1 Right Slider included. 
Don't get stuck on the rocks with plastic sliders, cruise thru them with these awesome coated steel sliders.
Note:
*Sliders fit gspeed TGH-V3 chassis rails.
*Sliders fit Brazin ATL Pro
*Will fit on Toyota single cab hard body and with proline power wagon body as well.
*Added slotted holes for a bit of adjustability and a notch so there's no need to remove the upper link screw to remove the sliders.