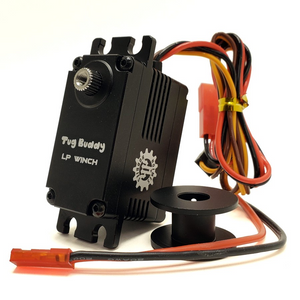 Tug Buddy Low Profile 16v Brushless Servo Winch
This winch is not a toy! It has the power and speed to injure, not for children!!
Whether you just want to play on the trail or compete against the clock when weight and speed matter, the Tug Buddy has you covered! Its built into a tiny low profile case to save grams and size when it matters. It is powered directly by a 2S to 4S LiPo battery via JST connection on your ESC's battery plug, eliminating the need for an external BEC! Ultra efficient and power dense brushless motor, but with a very controllable and smooth tune to give you finesse when needed. The added hold brake feature will ensure you dont slip, no matter the angle or weight of vehicle!
Spool and JST power connector INCLUDED
FEATURES:

Includes Winch Spool 21mm diameter x 12.5mm thin
Includes JST power tap
Hold brake function
Water resistant Alloy Case with O-Ring Seals
Waterproofed internals
All steel machined 5 gear layout with industry leading strength
Ultra fast Brushless motor
30cm radio signal lead
2s to 4s LiPo battery compatible, 6 volt to 16.8 volt range
1 Year Warranty
SPECIFICATIONS:

Weight:69g
Dimensions: 40x20x30mm
Spline: 25 tooth (Futaba type) M3 0.5 threaded
11.1v spooling speed @ 3.3 seconds per foot (10 sec/ meter)
11.1v torque 555 oz/inch (40 kg/cm)
14v spooling speed @ 2.8 seconds per foot (8.5 sec/ meter)
 14v torque 666 oz/inch (48 kg/cm)