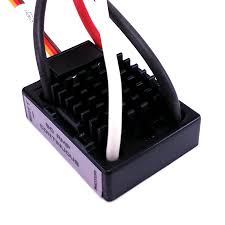 The TorqueMaster BR-XL is a new ESC for crawlers, robotics, and off road trucks. It has been designed from scratch to meet the rigorous demands of low speed control and high speed power. 5 amp 6 volt on board switchmode BEC delivers unbelievable servo power at any input voltage. Huge 80 amp continuous rating. Most impressive is the 6s LiPo maximum input voltage, giving even the most power hungry drivers what they want.

Comes stock with auto LiPo low voltage cutoff, full drag brake, instant reverse, and 100% reverse throttle settings.

1 year warranty
Water resistant design
2s to 6s LiPo input
onboard 6v 5a switchmode BEC
50x39x21mm
45.6 grams (with battery and motor wires)
Brushed only
80a continuous, no single 540 motor limit
Stick and Castle Link programming compatible

Reverse and brake adjustment
Regenerative Drag Brake
Active Hold Brake (The Holmes Hold!)
Quiet mode
Dual motor crawlers, go fast racers, wheel speed trail junkies, pullin mofo's, robot builders, and any brushed fanatic will love it!