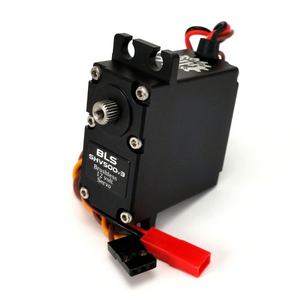 The BLS SHV500v3 servo is designed for R/C Rock Crawlers, but at home in any vehicle that needs high torque with ultra fast speeds. It can be powered directly from a 3S to 4S LiPo battery, eliminating the need for an external BEC! Clean up your wiring, gain space in a tight rig, and enjoy massive performance from the high quality brushless motor and circuitry.

FEATURES:


Water-Resistant Alloy Case with O-Ring Seals
All steel machined gears with improved pin strength
Upgraded Brushless motor with 200C rated magnets
24cm radio signal lead
24cm 12v power lead with female JST plug, includes male extension
3s or 4s LiPo battery required
1 Year Warranty

SPECIFICATIONS:


Weight: 93g
Dimensions: 41x21x41mm
Spline: 25 tooth (Futaba type) M3 threaded
Torque @ 11.1v: 580 oz/inch
Speed @ 11.1v: 0.10 sec
Torque @ 14v: 680 oz/inch
Speed @ 14v: 0.08 sec

If using an ESC with a power switch, the battery must be disconnected from the ESC and servo when not in use to prevent damage to the servo and/or battery. Moly (marine) grease is recommended when lubricating the gears. Dielectric grease is recommended on the power board and POT if looking to increase water resistance.