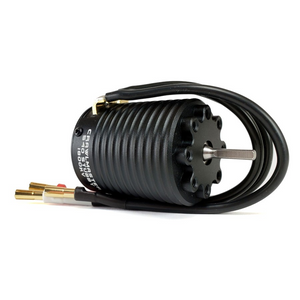 Sensorless rock crawling motor.
CrawlMaster BL 540 Stubby 10-Pole Sensorless Rock Crawler Motor 

Short motor, Smooth Startup, Sensorless inrunner reliability!

When you need a smooth and efficient sensorless motor but don't want the noise or spinning can of a Revolver, the Crawlmaster 540 Stubby delivers! This 10 pole topology is tuned for competition and discerning drivers, with refined startup and low end control you expect from Holmes! The Stubby is shorter and lighter than standard 540s without sacrificing power or torque, it is an optimized performance choice in the inrunner style.

 

Top features include very controllable startup, higher efficiency than outrunners (but at lower torque density), sealed can design for messy use, 8 way mounting for the perfect install, beefy solder tabs for lower resistance, and oversized bearings to prevent premature failure.  

 

Features:

Ten pole 16mm length Kevlar wrapped rotor with 180c rated magnets
Twelve slot stator with 200c rated resin impregnated coils
14g phase wires with higher quality 4mm compression bullets installed
Oversized ABEC-7 bearings
Sealed can
8 blind mounting holes
Shorter than a normal 540 motor

Specs:

25mm 8 hole mounting pattern
M3 mounting screws (5mm depth max, we recommend using 6mm screws for most installs)
3.175mm shaft
36mm diameter
45mm length
149g (5.26oz) with wires
50,000 rpm max
2-4s lipo recommended

Recommended ESC pairing, Castle Creations or Holmes Hobbies products

1 year warranty from date of purchase. Does not include damage from overheating, rust damage, or improper installation.  We recommend occasional dissasembly and cleaning if the motor is used constantly in water, and additional grease on the exposed ball bearing to prevent water from seeping past the bearing/ shaft interface.