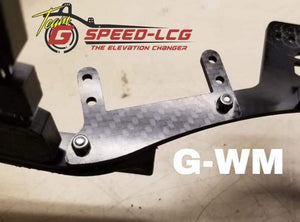 GSPEED G-WM multi purpose carbon fiber winch mount! Another amazing design pumped out by GSPEED Team Driver Michael Frolik.
For mounting, use one existing front upper link mounting hole then mark and drill one new hole in the chassis rail. 
Hardware not included
This mount can also be mounted in many different locations on the chassis rails with a couple extra holes drilled in the rail. Because of the massive amount of positioning that can be accomplished with different sizes of screws and spacers, the G-WM doesn't come with hardware so the cost can be kept low.
The G-WM can be used on either side of the chassis and works with the Axial 3 gear transmission, TGH-FMM forward motor transfer case and the TGH-2.low.