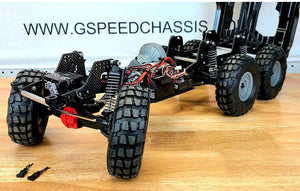 Not a direct bolt on part for any brand 6x6 rig. Depending on build direction, there will be necessary modifications. 
This listing is for a preorder for an estimated ship date of 1-25-21. This is only a estimated ship date. could be longer or could be shorter
CNC cut from carbon fiber. Same drastically angled skid plate as the TGH-V3 that allows your rig to make cleaner break overs while offering the same GSPEED low center of gravity. Plenty of shock and suspension link mounting locations to adapt to your custom 6x6 build. Chassis will bolt up to any aftermarket scx10 or 10ii skid plate. The G-6X6 is not a direct bolt on but with custom modifications it will take your TRX6 and UMG10 to THE TOP.
https://youtu.be/Sm1zXSgS0Ts
Axial UMG10 ready to run parts that can be used.....
- Axles 
- All suspension and steering links can be used, except for the drag link. A single drag link can be purchased at Hardcore RC. If running a GSPEED G-LD servo mount, a 78mm eye to eye drag link will be needed.
- Shocks
- Drive shafts (rear drive shaft needs to be shortened. Chassis spacers need to be installed over each of the rear axles to limit a single rear axle from full compression to keep the rear drive shafts from popping out.)
- Transmission 
- Body (trim for rear shock hoops and you will need to get creative with rear body hing)
- Front body mounts
- ESC
- Motor
- Transmitter and receiver 
- Servo
Other parts needed....
- GSPEED Square Spacers (available on this website)
- GSPEED G-MP multi platform panhard mount 
(available on this website)
- GSPEED G-LD Laydown CMS servo mount or the TGHG-DSM dual servo mount 
(available on this website)
- GSPEED TGH-V3 electronics tray sliders 
(available on this website)
- GSPEED TJ RC Products or Vader Products SCX10 delrin skid plate 
(available on this website)
- If running the GSPEED G-LD you will need a 78mm straight steering drag link that can be purchased from 
https://hardcore-rc.ecwid.com/
- Miscellaneous 3mm hardware and spacers-
3mm hardware- https://teamknkhardware.com/stainless/2-700-pcs-monster-bag.html
Spacer kit- https://teamknkhardware.com/spacers/608-aluminum-spacer-variety-pack.html?search_query=spacers&results=35
.
TGH-FMM standard and mirrored configuration will work with this chassis. Mirrored mounting hole provided.
.
Suspension link kits will be available at https://hardcore-rc.ecwid.com/