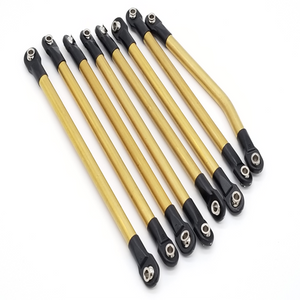 Meat sticks are a great way to add that extra weight down low to improve the center of gravity of your rig! This kit is designed for the Traxxas TRX4 12.3" wheel base.
XXL Meat Sticks are designed for comp rigs as these kits include delrin uppers and brass lowers. The rear lowers are bent for high clearance.
-Weight = 6.8 ounces
-5/16" brass lowers
-1/4" delrin uppers
-High clearance rear lowers
-Traxxas rod ends
*Actual product may vary from images shown.